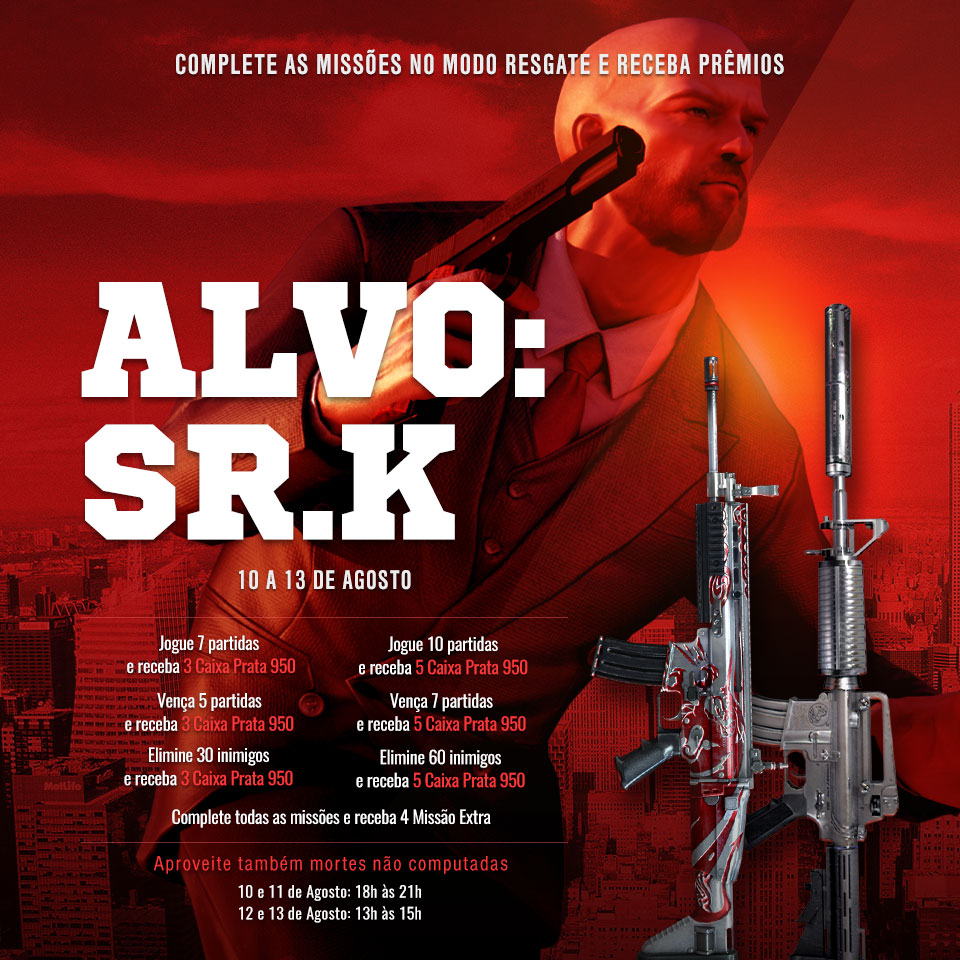 E o evento do final de semana está no ar!!
Vamos jogar o modo novo, aprender todas as suas táticas e, acima de tudo, se divertir. E claro que tem caixa de MN!!
Fast Click Here To Download
FAQ
1) Como funciona este evento?
Complete cada missão no modo Resgate e receba caixa Prata 950
Complete todas as missões e receba 4 Missão Extra
As missões são:
Jogue 7 partidas e receba 3 caixas
Jogue 10 partidas e receba 5 caixas
Vença 5 partidas e receba 3 caixas
Vença 7 partidas e receba 5 caixas
Elimine 30 inimigos e receba 3 caixas
Elimine 60 inimigos e receba 5 caixas
Lembre-se que cada partida tem que ter uma duração mínima de 3 minutos e o jogador deverá ficar até o final da partida.
Aproveite também o mortes não computadas:
10 e 11 de Agosto: entre 18h e 21h
12 e 13 de Agosto: entre 13h e 15h
2) Posso jogar em qualquer modo?
R: Não, é necessário jogar todas as missões no modo Resgate.
Fast Click Here To Download
3) Quando as caixas serão entregues?
R: As caixas serão entregues em até 24 horas após completar a missão. Os itens Missão Extra serão entregues algumas horas após se completar a missão.
4) Como saber se eu completei o evento?
R: Basta ir na página de acompanhamento de eventos em nosso site.
5) Tive um problema com o recebimento da premiação deste evento, como eu posso solucionar?
R: Você deve primeiro ver se existe algum anúncio oficial sobre algum erro do evento no fórum ou nas notícias do suporte. Se não houver nenhum comunicado oficial sobre o seu problema então pode entrar em contato conosco através do suporte técnico enviando um ticket.
5) É missão contínua ou é missão separada?
R: Cada missão é uma só, ou seja, quando você completar uma, deve fazer a outra desde o início.
Caso decida fazer todas, o total será:
• Jogar 17 partidas.
• Vencer 12 partidas.
• Eliminar 90 inimigos.