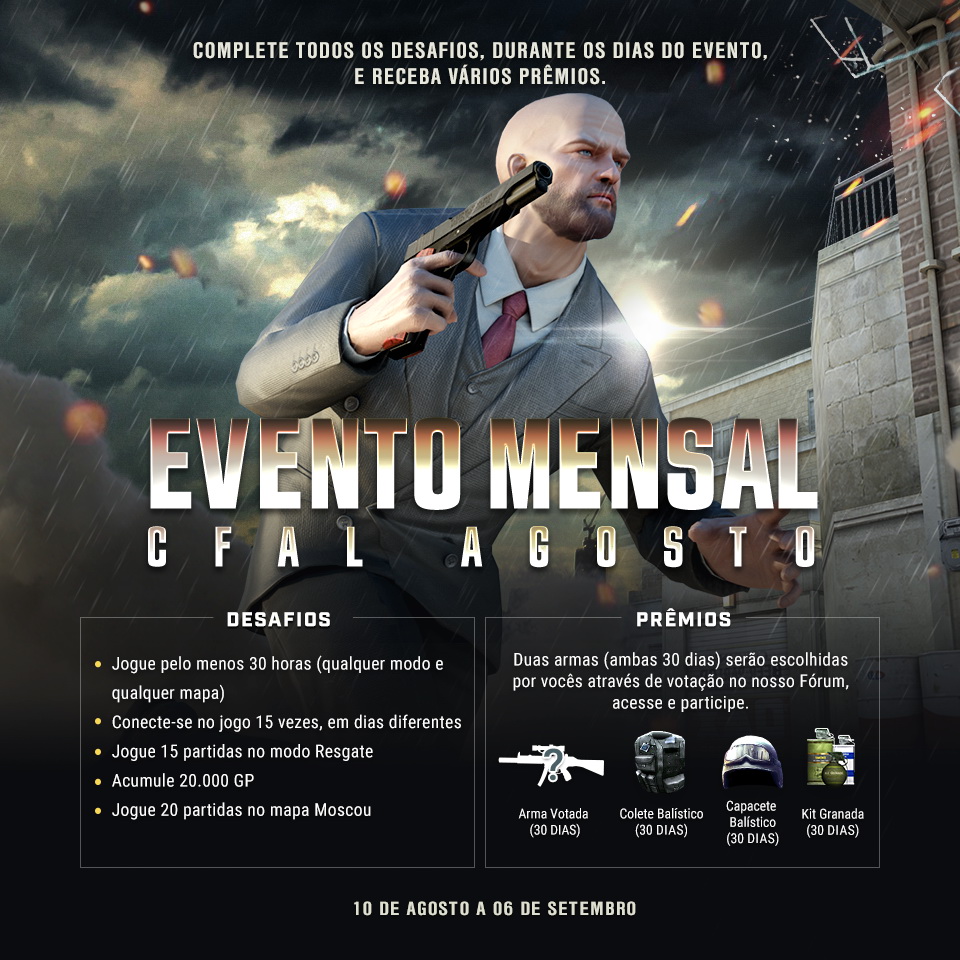 Mais um evento Mensal chegando no CFAL!
Fast Click Here To Download
FAQ
1) Como funciona este evento?
Complete TODOS os desafios abaixo, entre os dias 10 de agosto a 06 de setembro.
Conecte-se no jogo 15 vezes em dias em dias diferentes
Jogue pelo menos 30 horas (qualquer modo e qualquer mapa)
Jogue 15 partidas no Modo Resgate
Acumule 20.000 GP
Jogue 20 partidas no mapa Moscou
E receba os seguintes prêmios:
Colete Balístico (30 dias);
Capacete Balístico (30 dias);
Kit Granada (30 dias);
Arma a definir (30 dias); (verifique a Enquete abaixo)
Completar apenas alguns desafios não dará direito a nenhum prêmio.
2) Entrei na minha conta e não tenho todos dias do meu item, tenho menos…?
R: Lembre-se que a partir do momento que o item é adicionado em sua conta seu tempo de expiração será contado, então fique atento para aproveitar todo o tempo de seu item.
3) Quando os itens serão entregues?
R: Os itens serão entregues no final do evento, dia 07 de setembro.
Fast Click Here To Download
4) Se eu me conectar no jogo 15 vezes, no mesmo dia, será contabilizado para o evento?
R: Não, você deve se conectar em dias diferentes, em outras palavras, você deve conectar-se no jogo ao menos uma vez em 15 dias diferentes.
5) Como saber se eu completei o evento?
R: Basta ir na página de acompanhamento de eventos em nosso site.
6) Completei 4 missões, receberei os prêmios?
R: Não! Terá que completar TODOS os desafios para poder receber os prêmios!.
7) Joguei as partidas e não contou, por quê?
R: Serão consideradas as partidas que tiverem um mínimo de 3 minutos de duração e que o jogador fique até o final.